For any bride, having the perfect wedding gown is of utmost importance for her special day. On this special day, every bride would like to put her best foot forward and make sure her outfit is as perfect as it can be. There is a lot of variety in designs and fabrics that wedding dresses are available in. There are fabrics for every season and for every design. But there's a very good chance you won't understand a thing when your stylist is asking you about these different wedding gown fabrics. If you are confused as to how to choose fabric for a wedding dress, here's a brief wedding dress fabric guide to help you out.
Chiffon: It is a light and delicate fabric having a sheer and transparent style and generally used as an overlay or as an accent detail. It is made from woven silk or rayon. This matte fabric is graceful, and its airy nature makes it perfect for spring-summer weddings.
Crepe: It is made from a soft silk or lightweight rayon, and its texture is crinkled, making it perfect for soft silhouettes. This fabric is great for accentuating curves, can be used in minimalist designs, in styles like the mermaid or A-line dresses.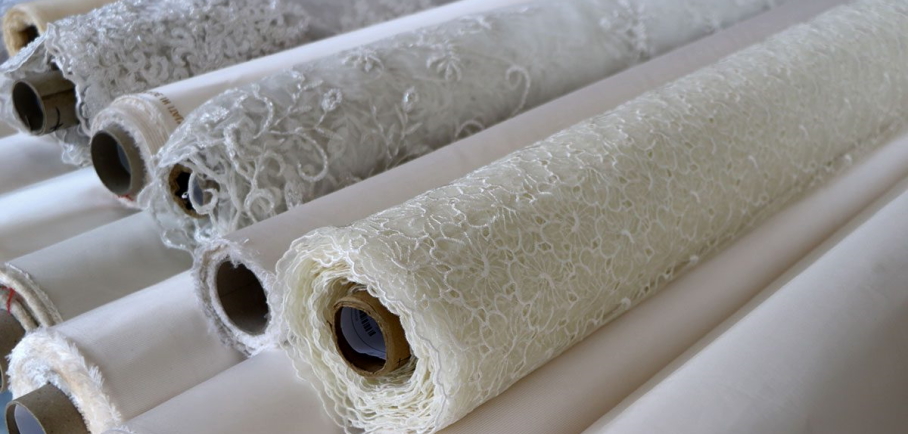 Dupioni: This fabric can be slightly rough due to its coarse silk fibers but it has an organic aesthetic. It is good for dresses that need structure and have dramatic silhouettes like ball gowns.
Georgette: This fabric is made from polyester or silk and is sheer and lightweight. It offers a soft silhouette and makes it a great top layer for wedding gowns. Georgette is perfect for feminine silhouettes that have a flowy quality. It is for weddings in the warmer seasons.
Lace: This is the most popular wedding gown fabric, ever. It is very diverse and comes in various patterns, textures, embellishments, etc. It has a delicate, vintage and romantic quality, all of which is perfect to overlay on a wedding gown.
Mikado: Mikado is a heavy silk having a shiny finish. Its thickness gives it structure and can be tailored into multiple designs, be it narrow mermaids or strapless ball gowns.
Organza: Organza is sheer and lightweight but can also hold a structured silhouette. It is woven from silk or synthetic fibers and has a lustrous quality with a crisp drape. It is used to add fullness by layering it over fabrics in a gown. This sheer fabric has a romantic vibe to it.