The wedding day being the one of the most important days in your life, you want to make sure you look good on your special day. With pictures and video being taken all day long, you want to make sure your wedding look is elegant and just like you imagined it. Looking back at the photos and videos, you can cherish those moments knowing that you did things the way you wanted them. Small details make a big difference in your wedding look. Your wedding dress, your makeup and hairstyle, your jewellery are details you should pay attention to for your d-day. Choosing wedding jewellery is one of the most important aspects of planning your bridal look.
Here are some tips for picking wedding jewellery:
Pick the right jewellery for your wedding dress: Your jewellery should match the style of your wedding dress. Choose bridal jewellery based on the neckline of your dress and the embellishments on your dress. If your dress is heavily embellished, pick a light jewellery piece that will complement the look. You can find various styles of jewellery that will complement different necklines.
Don't overdo it: One mistake that a lot of brides make is going overboard with their jewellery. You must accessorize appropriately. You don't need to wear a necklace, earrings, tiara, bracelets and rings all at once. Leave out certain pieces according to the taste of the look because sometimes less is more.
Go to a trusted jewellery: Jewellery is expensive and buying precious metals should be done only from a trusted and reputed jeweller. They will be able to offer you a lot of variety in designs and also provide you authenticity certificates for the precious metals purchased, so you can be sure that you're putting your money in the right place.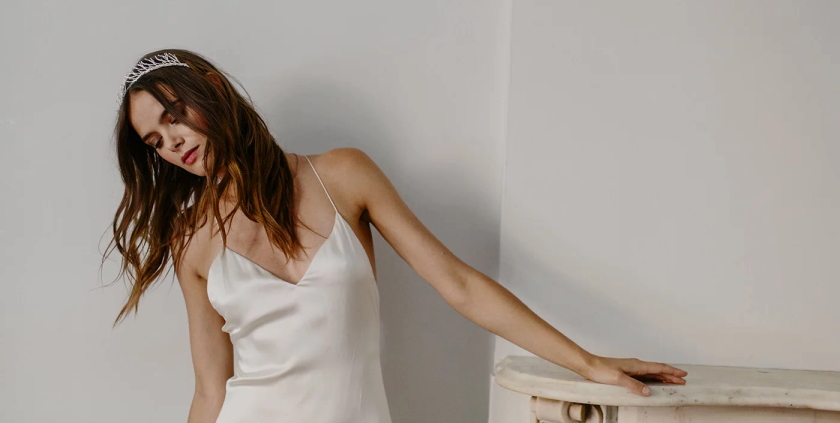 Avoid colourful jewellery: If you want colourful gems in your jewellery pieces for the wedding, pick pieces that have accents with colourful gems, but don't go overboard with it. Having too much colour in your jewellery can distract you from the more important things in the overall look which is not a good idea.
Choose pieces which you can use later: Many times it may so happen that the jewellery bought for a wedding is grand and cannot be worn very often. This is not good value for money, so you should pick jewellery pieces that can be worn more than once and can be worn on many different occasions.