A wedding photographer is entrusted with a great responsibility of capturing precious moments from a couple's wedding day. A wedding photographer's work brings back beautiful memories for people to look back on and reminisce those days. With such an important job on a special day, it is important that a photographer's wedding photography gear is in place and they're ready to seize the day.
Here's a list of wedding photography equipment every wedding photographer's toolkit must have:
Camera and backup camera: This is the first and foremost thing in a photographer's toolkit. It is important to carry backup cameras in case something goes wrong with your main camera.
Medium zoom lens: A medium zoom lens offers focal length that is great for wedding portraits. It offers both wide as well as tight perspectives. It is also good for spaces that are not lit very well.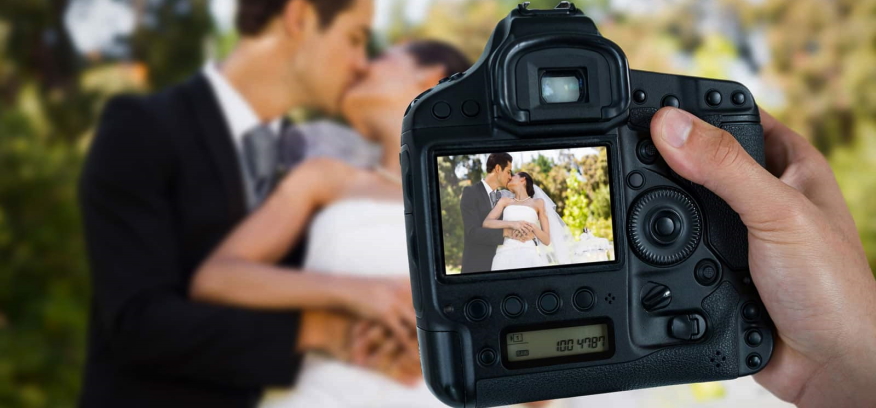 Telephoto lens: A longer lens is required for shooting events in a particular ceremony from a distance. This allows the photographer to work without blocking anyone's view.
Speedlights: An external flash is of great help when the area is too dark, especially in night time weddings. This is a must-have to avoid dark and grainy photos.
Memory cards and batteries: Always carry extra memory cards and batteries when doing wedding photography. You are bound to capture a lot of footage and you need to make sure you can cover the entire wedding.
Tripod and light stands: Carrying a tripod will help you need more stability and leveling. Light stands are very helpful because you can't carry heavy things like a camera and a Speedlight, and take pictures. Having light stands will help you adjust the placement of the lights and get the desired lighting in photos.
Flash diffuser: A flash diffuser, as the name suggests, diffuses the harsh light and gives better lighting for better portraits. This is useful when you don't have much time to set up your lights.
Camera bag: When carrying so much equipment, you obviously need something to carry it in. So a spacious camera bag that you can easily carry around is a must for any wedding photographer.
Lens cleaning kit and lens hoods: It may so happen that your lens may get dirty over the course of the event, so you need to keep a cleaning kit on hand to clean your lens on the go so that you don't have to take smudgy and hazy shots. Carrying lens hoods is helpful in preventing the lens from getting dirty.