Your wedding day being the most memorable day in your life, you want to make sure you capture as many memories from this day as you can. Photographers and videographers are all over the place trying to do this while you're busy getting married. Since pictures are such an important part of any wedding, having a good wedding photo backdrop is important to get the best possible photos.
Most people like taking photos, so setting up a backdrop or photo booth is a great way of keeping guests busy and entertained. It's a great way to look back at photos and see your wedding day through your guests' eyes, and see how they experienced your special day. Whether you set up a photo booth, or keep disposable cameras on every table, there are many ways to make your guests feel a part of the celebrations and add to the overall guest experience.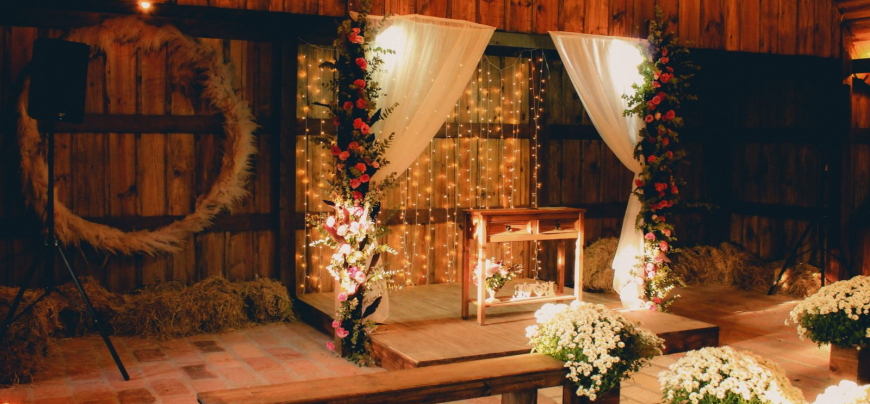 Here are some tips on getting your wedding backdrop done:
Look for inspiration: You can find ideas for backdrops online on websites like Pinterest or follow wedding blogs where they can give you ideas for any wedding theme you like. This will help you decide what type of wedding theme you want and how you can decorate the venue accordingly.
Hire the right vendors: Vendors have many contacts and know-how and where they can get the job done. Once you explain it to them, leave it up to them to get your dream backdrop done. Hire a vendor based on their previous work and reviews of their work.
DIY if you can: Nobody will be able to get the details exactly right other than you, so if you can, you may design the backdrop yourself using the inspiration pictures you can find online. This will also make for an unique experience which you can cherish later.
Here are some wedding backdrop ideas or ideas for ceremony backdrops you can use for your wedding:
Traditional backdrop: If you plan to get married in a church, the altar itself makes for a great wedding backdrop.
Floral arch: Standing under a floral arch and saying your vows makes for an eye-pleasing scene at your wedding.
Rustic look: If you like the rugged look and imperfect beauty, you can opt for a wooden, rustic look that looks great with beautiful lighting.
Fairy lights. You can have a backdrop made out of fairy lights to make it look like it's literally a match made in heaven.